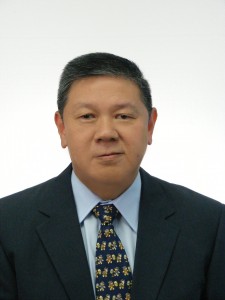 Edmund Ng
The Managing Director & majority shareholder of the company, Edmund Ng has more than 30 years of experience in the freight forwarding industry & is well-versed in both air & sea international freight forwarding. He started his forwarding career in 1978 with a well known American freight forwarding company and after 2 years, left to join a British freight forwarding company, which during its peak, has more than 80 offices worldwide. Prior to leaving them 5 years later, he was the local director at the Singapore office of the British forwarder.
For the past 26 years, he was managing the Singapore business of a Hong Kong based freight forwarding company which became the first freight forwarding group of companies in Hong Kong to be listed on the Hong Kong Stock Exchange in 1992. He eventually left the company in April 2010, having spent more than 26 years with the company which was acquired by another logistics company in 2008.
Edmund also served as a council member with the SAAA (Singapore Aircargo Agents Association) & was the honorary deputy secretary of SAAA prior to resigning his position in Feb 2010 as required by his previous company.
John Ang Beng Huat
Sales Director & one of the shareholders of the company, John Ang has more than 20 years of experience in both sea & airfreight international freight forwarding. He was an ex-police officer from 1983 to 1988, and started his sales career at a local multinational company since 1989.
In 1990, he joined as a Sales Executive with a Hong Kong based company in Singapore which became the first freight forwarder to be listed on the Hong Kong Stock Exchange in 1992. He worked his way up diligently & was promoted to the position of  Sales Director in 2004, and stayed with the company until January 2011. He & Edmund have been colleagues since February 1990 to April 2010, prior to joining Raffles Freight & Logistics Pte Ltd in February 2011.
John graduated with a FIATA Diploma in Freight Forwarding in July 1999, & SFFA Diploma in Freight Forwarding in December in the same year (previously known as SFFA or Singapore Freight Forwarders Association, & now known as SLA or Singapore Logistics Association). He holds an Advanced Toastmaster – Bronze, or ATM-B in the Toastmasters International and has been a member of SIM I Toastmasters Club since December 2000.